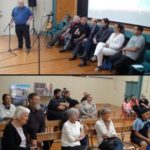 Eight candidates who want to represent Otangarei as a Whangarei District councilor presented their case to locals at a hui at the school on Tuesday 14th.
Candidates had a short amount of time each to speak to a series of photos they'd put together to show what they could offer Otangarei.  A crowd favourite was a photo of the new Otangarei directional sign installed on Puna Rere Dr.
Voting begins on Wednesday 15th November and closes on Thursday 7th December.  Kaua e wareware ki te poti, whanau ma!
The event was organised by Te Hau Awhiowhio, whose vision is "proud, proactive, prosperous whanau in Otangarei".  Thanks to MC supreme Moana Cotton, Otangarei school, and matua Piripi from IHaveaDream for managing all the technical stuff.
Posted: Tue 14 Nov 2017