Kaimahi supporting and engaging with youth in proactive and aspirational programmes that tranistion tai tamariki.
What Activities Are There?
Community Contribution
Community beautification – D'Tag, painting
Habitat for Humanity
Maare Kai / Gardens
Education
Cultural visits – Waitangi Treaty Grounds, Ruapekapea
Pepeha
Rongoa
Basic Tikanga Maori
Online Learner Licenses
Emplyment walkthroughs
Life Skills
Fishing off the rocks and wharves
Picking pipi, puha and watercress
Diving for kaimoana
Eeling and setting nets
Health, fitness and outdoor recreations
Waka Ama and kayaking
Basketball
Crosstraining
Aquatic Centre gym and swim
Boxfit and circuit training
Bush and coastal walks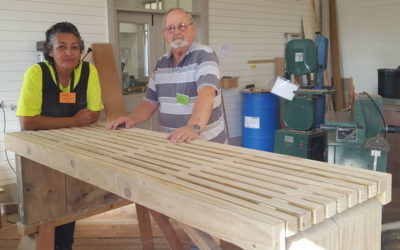 The Whangarei Men's Shed teamed up with an Otangarei work skills programme to teach people how to make park benches for the community.