Our Youth Services provide a number of programmes to young people engaged with the judicial system.  All referrals come directly from the court and Oranga Tamariki.
Programme activities
Community Contribution
Community beautification – D'Tag, painting
Habitat for Humanity
Maara Kai / Gardens
Education
Cultural visits – ie. Waitangi Treaty Grounds, Ruapekapeka
Pepeha
Rongoa
Basic Tikanga Maori
Online Learner Licences
Employment (work preparation)
Life Skills
Fishing off the rocks and wharves (how to string your line)
Collecting pipi, puha and watercress (without waste)
Diving for kaimoana (water safety basics)
Eeling and setting nets (making your own hinaki)
Health, fitness and outdoor recreations
Waka Ama and kayaking (basic instruction)
Basketball
Crosstraining
Aquatic Centre gym and swim
Boxfit and circuit training
Bush and designated coastal walks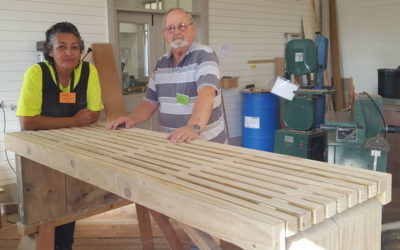 The Whangarei Men's Shed teamed up with an Otangarei work skills programme to teach people how to make park benches for the community.