Come and share in a celebration of Otangarei, community regeneration and renewal.
Connect with friends and whanau kanohi-ki-te-kanohi, share your stories and learn something new.
Nau mai, haere mai!
What's new
Takaro We're getting a playground!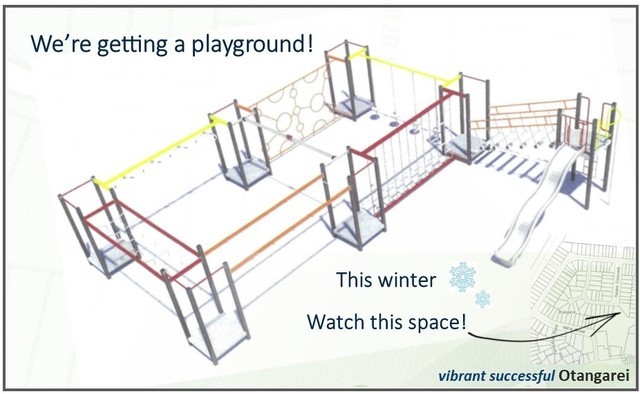 It's hard to miss! After much effort by the community and its supporters, Otangarei will have a 'meke playground!
Mayor Sheryl Mai will be along at 1pm to celebrate this new community asset with us.
Weather permitting, there'll be other fun things for kids to do, including a bouncy castle and these guys!
Ngahau On the Stage Valet Music
Valet Music is taking the stage at 3.15pm, bringing their unique blend of Funk, Pop and Soul. Not to miss.
Marae Zone  Matariki Presentation
Come and listen to kōrero about Matariki, how it's significant amongst different iwi and traditions for celebrating Matariki – old and new. At the marae, 2pm.
Marae Zone   Weaving workshop
Learn how to make this nifty drink bottle holder, a Matariki star, or other small projects.
Cassandra Moar is well known in Northland for teaching how to weave wahakura waikawa; a safe sleep solution for newborn pēpi.
She'll be sharing her skills at a weaving workshop in the marae wharenui, Te Puawaitanga Hou.
Ngahau  On the Stage
MC Blaksawd will be directing the stage entertainment, including a hip hop / krumping interactive by the Cover Up Project.  From 1.30pm.
Kai Hangi fundraiser
City Rugby are offering $5 hangi lunches on Sunday to raise funds for their 125th jubilee later this year. Presales only.
HANGI PRESALES
Info Zone
Loads of info about services, hauora, training opportunities available to the Otangarei community. Come talk to some peeps! There'll be something to interest everyone.
Kai Free sausage sizzle
The folks at People Potential are cracking the barby and offering a free sausage sizzle on a winter's day. Ka pai!
Marae Zone Permaculture Maara Kai exhibition
With Matariki upon us, the Te Puawaitanga Marae is establishing a permaculture maara kai garden for the community.
This mara kai is designed using a natural method of gardening which works with Papatuanuku to develop the best conditions for growing plants and managing garden pests.  Because of this, it requires less mahi to maintain.  There is 90% less weeding and watering, and perennial grasses and trees are used as a habitat for beneficial garden organisms.
Matariki is the perfect time to put this style of garden in place.  The heavy mulch layer used as a garden floor breaks down in the winter rains, and adds richness to the maara kai in time for spring planting.
Come along to the open day at the Marae on the 1st of July to learn how you can set up this style of maara at home using mostly free resources from around the community.

Find out more: How to get involved